KNOCKERBALL MN RENTAL DETAILS
Knockerball MN Rentals Include The Following:
– An event host to deliver,set-up, and take down the equipment.
– The host does not leave the venue and will also will also cover safety, and how to get in and out of the suits.
– To keep things entertaining, the host will also lead the participants through alternative games.
– Multiple Soccer ball choices including a GIANT ball to mix things up.
– 6 Knockerball suits (more available upon request).
– Nets and Cones
– Music via a very large Bluetooth speaker, so you can play your own tunes as well!
– Additional protective items such as gloves and knee pads
– We Offer two pricing methods, one with venues included and one without venues included.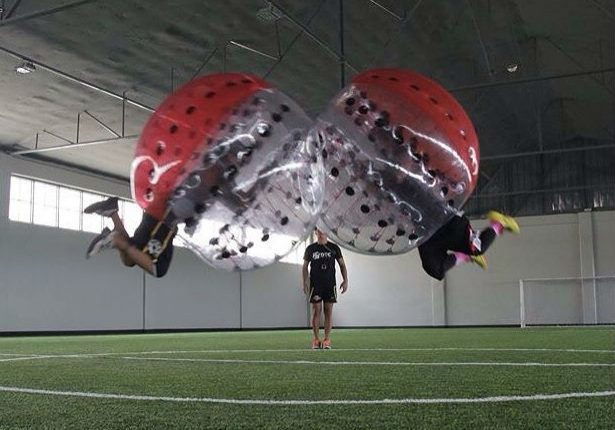 Knockerball MN Rental Pricing:
"We Come To You – You Book The Venue" Pricing
(venue fees not included)
1 hr. Rental with 6 suits: $199
1.5 hr. Rental with 6 suits: $249
2 hr. Rental with 6 suits: $299
2.5 hr. Rental with 6 suits: $349
3 hr. Rental with 6 suits: $399
Extra suits: $10/suit/hour
"We Come To You – We Book The Venue" Pricing
(venue fees ARE included)
1 hr. Rental with 6 suits: $275
1.5 hr. Rental with 6 suits: $375
2 hr. Rental with 6 suits: $425
2.5 hr. Rental with 6 suits: $475
3 hr. Rental with 6 suits: $600
*We book a facility within 10 miles or so of your desired location. Specific venue locations can be requested, but are not guaranteed.
Extra suits: $10/suit/hour
Keep In Mind, We Want To Be The Best Value In Town, So We'll Beat Anyone By 10%.
FREE QUOTE
ASK QUESTIONS
OR BOOK YOUR RENTAL BELOW
(612)462-3460
A Fuel Surcharge of $25 applies if you are choosing the "we come you you" option and are in the metro and .50c/mile fuel surcharge applies if you are outside the metro.
*Sales Tax not included
* Minimums may apply for Long Distance events
*A $50 wear and tear fee applies unless playing on grass or turf.
You may have an unlimited number of players for the standard suit rental and just rotate people in and out (I wouldn't recommend going beyond a 2:1 ratio though), so extra suits are not required when you have more players than suits. The extra suit option is simply if you want more players playing at one time or if you have a wide range of participant age/size ranges. I strongly recommend adding suits for functions that have youth and adults rotating in.
We can accommodate any size Knockerball rental in Minnesota. Knockerball MN has more than 40 suits and in 4 sizes for large events and diverse age range events (1.0m ,1.2m, 1.5m and 1.7m).
OUR MINNESOTA KNOCKERBALL RENTAL PROCESS
Don't Over Think These Steps, Just Follow The Bolded Items and Get In Touch With Us.
1.Check Knockerball MN's availability for the date/time that you want to play by calling or emailing us. We will come to you anywhere in Minnesota.
2.Choose a venue to play. Please contact your city parks and rec. department to reserve your space once you know we are available. Most cities have a permitting or booking process. While we don't require you to officially reserve a space through the parks and rec., it is strongly encouraged. It's true that some cities do not have an official process, but if they do and you just decide to tell everyone (including me) to gather for play at a certain field without city approval and we get booted off; The rental is over at that point. Indeed, this scenario is very unlikely (especially for the smaller obscure parks), however it is still a possibility. To avoid conflicts with organized sports I also advise to play on open green space and not an official field, but either can work.
3.CONTACT US again to finalize the invoice/pay the invoice and confirm rental details.
4.Please review our policy page before paying your invoice.
Once the policy page is signed and the invoice is paid, you are officially booked.
5.Be aware all participants must have a waiver signed prior to playing. Either filled out online (highly preferred) or on-site the day of the event. Minors must have their legal guardians fill the waiver out for them. Those that don't have their waiver signed cannot play.